Teak Info/Care
Why should you choose teak?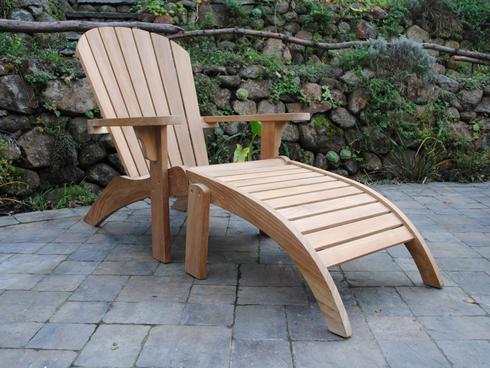 The natural oil content of the wood makes teak resistant to water and weathering. Over time, teak will age to a soft silver color.  The original "new" look may be maintained with the application of linseed oil or teak sealer once or twice a year, though many prefer the classic elegance of the aged wood.
Teak Care Tips
Paradise Teak is sold in its natural condition and untreated.
What you should expect when you place your furniture outside-
Within the first two weeks your furniture will acclimate to its new location outside. After the wood has been exposed to moisture, the surface grain may rise slightly. You may even notice a few small cracks, called "checking". This is a natural weathering effect. Wood expands and contracts slightly when left outdoors. The slight separation of the grain has no affect on the strength and longevity of the furniture. Water spots or other discoloration may also occur early in the weathering process. This will even out and the furniture will achieve a uniform sliver-gray color.
The only necessary maintenance for your teak outdoor furniture is an annual cleaning. Gradually, over about a year or two's time, all untreated teak will develop a silvery-gray patina, which helps protect the wood. If this is the look you prefer, simply clean your teak once every spring (see annual cleaning below).
If you prefer to maintain the original honey color for your new furniture, we recommend Semco Teak Sealer. This brand offers natural looking protection for years of enjoyment. Lasts through the season and can be renewed without deep cleaning or stripping for years! Call today to order.
When / How to apply sealer
Semco Teak Sealer should be applied no sooner than two weeks of outdoor exposure or after freshly cleaned and dried teak furniture.
Semco is easy to apply. Simply spray on with a pump spray bottle, brush, or wipe on with a rag. Apply liberally and wipe away any excess sealer with a separate clean rag. There is no need to worry about brush strokes or lap marks. The first coat will try within one hour. Apply a second coat after the first is completely dry. Be sure to apply both coats in the same day. Two coats are all that are recommended for new OR restored furniture.
Treating Stains
Food and grease marks can usually be removed with soap, water and a soft plastic bristle brush. Stubborn stains can be treated with a weak bleach, soap, and water solution. If all else fails, the stain can always be sanded out with fine grit paper.
Mildew Removal
Mildew most often develops in conditions that are continuously damp or highly humid where the furniture is not allowed to regularly dry out. Should mildew (black spots) develop on your furniture, it can be removed with a solution of 1 part bleach to 10 parts water. Apply the solution to the affected furniture and let sit for a minute. Lightly agitate with a soft plastic bristle brush and rinse clean with water. Repeat if necessary.
Annual Cleaning
Annual cleaning is recommended to remove accumulated dirt, pollen, etc. Thoroughly spray down your furniture with a garden hose to remove any loose dirt. Then, while the furniture is still wet, use a plastic bristle hand brush and lightly scrub the furniture back and forth in the direction of the grain of the wood. This scrubbing will agitate the dust and dirt from the teak. Immediately hose off the furniture before it dries. This annual cleaning takes some elbow grease and is a bit wet and dirty. However, your teak will look fresh and shimmery silver and you will be happy with the resulting clean furniture.