About Us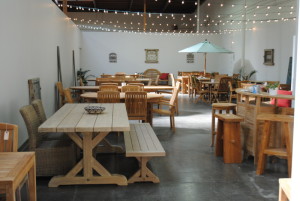 Paradise Teak provides factory direct prices for quality teak outdoor patio furniture. We are a family owned and operated business. We pride ourselves in our customer service, and go out of our way to ensure our customers are satisfied.
Only the highest quality, premium Grade A teak is used to craft our furniture.  All furniture is kiln-dried to 15% moisture content before leaving Indonesia,to minimize warping and checking.
Our teak is sourced exclusively from the Perum Perhutani government-managed plantations in Java, Indonesia, so you can feel confident that your teak purchase is an eco-friendly choice.
All of our furniture is built to last with mortise and tenon construction, and brass or stainless steel hardware.
See what our customers are
saying on YELP!
Also, please find a few customer testimonials…..
Mandy, I just wanted to tell you how much I love my table and chairs that we
bought from you. We just put the sealer on and it is beautiful. My husband says that they're so much nicer than our dining set that we should move them inside.
It was such a pleasure doing business with you. We were surprised to find a small-town attitude in a big city. If we have reason to purchase more teak furniture,
it will definitely be from you.
Thank you for a great product and a wonderful shopping experience.
Alicia
I am so pleased with my teak furniture!
I applied the Semco sealer and it looks awesome. So I just wanted to say thank you
for the great service and quality teak furniture. It's been a pleasure working with you.
Steve
Thank you so much for all your help! I love the teak table and chairs….it all came together!
The baby shower was lovely, our friends admired the new patio set…..We'll do business again, as we still like to add a few more pieces …
Rita
We just wanted to let you know how much we're enjoying our dining set. You were absolutely great to work with and we really appreciate the easy exchange process
you provided for us. We hope to purchase more teak outdoor furniture from you in
the future.  Best of luck with Paradise Teak.
Emily
We just couldn't be happier with the chairs and table!!! … We also might think about doing a couple benches at some point so would be interested to know if you get more
of them in with your next shipment. …. We will definitely mention you to anyone we hear looking for outdoor furniture!
Colleen & Chris

We LOVE our new teak patio set!! We spend much more time in our yard now that
we have a beautiful table and chairs to enjoy. We looked at many different options before choosing your products and found yours to be the best quality for the money. Thank you so much!!
Jim & Diane
Our new table and chairs look awesome! …. Thanks again for your help in completing our backyard!
Susanne

The new patio set is beautiful. My husband and I are very happy. We look forward
to picking up the 2 arm chairs in the near future.
Nicole

The table and chairs look great in the patio and it will become a major family gathering spot. It was also lovely meeting you and Paul.
Tania

We got the large expanding table with six chairs. The backyard looks really classy and has received many compliments on the set. We are definitely passing on your name to others. Your prices are the lowest I have ever seen. Love the furniture.
Jay and Janette